A Great Cup of Coffee is not just a Desire but a Fantasy
Imagine you are sitting on a mountain top enjoying the beauty of nature on a chilly morning with a portable coffee machine in your hand.
Well, coffee is not just a drink but an emotion that fits your fresh mornings, tiring breaks, and evening dinners. Coffee lovers are sure to find coffee makers a boon on earth. These portable devices are able to overcome the challenges of finding your precious joy under harsh conditions. This article is here to help you unlock some of the lesser-known reasons for owning a great portable espresso machine.
1. Overcome The Hassle Of Coffee Making While Traveling
On a trip, whether it's a holiday, for work, or just going for a drive, You deserve a good cup of coffee. In rental apartments or hotels, the provided coffee machines are either not functional or dirty and the last thing you want is to drink an instant coffee.
Experimenting with different cuisines can be fun, however, when it comes to coffee, you can simply not take a chance. Imagine going on a business tour, spending hours on a presentation, and ending up exhausted. What's your savior? The aromatic cup of espresso is made in your very own portable Aropy Espresso machine.
Why spend so much money at fancy cafes and restaurants, when you can easily make it in a compact and portable coffee maker. Making your favorite coffee in a foreign land can be challenging. Don't try to struggle with those traditional techniques like a stovetop coffee maker. Not only is it difficult, but it is also messy. Try an amazing espresso machine like the Aropy coffee machine that heats water and makes your favorite brew.
2. Make your trips cheerful and tasty
As a passionate traveler, You don't want to miss the flavor nor the taste of the freshly-made espresso that touches my soul. While you are out all day or working in remote places, you may not be able to find a café or place with coffee options on their menu. The Aropy Portable Espresso Machine helps you get the perfect flavor. Its compact design, lightweight easily fits in your traveling case which makes it an ideal choice for all travelers!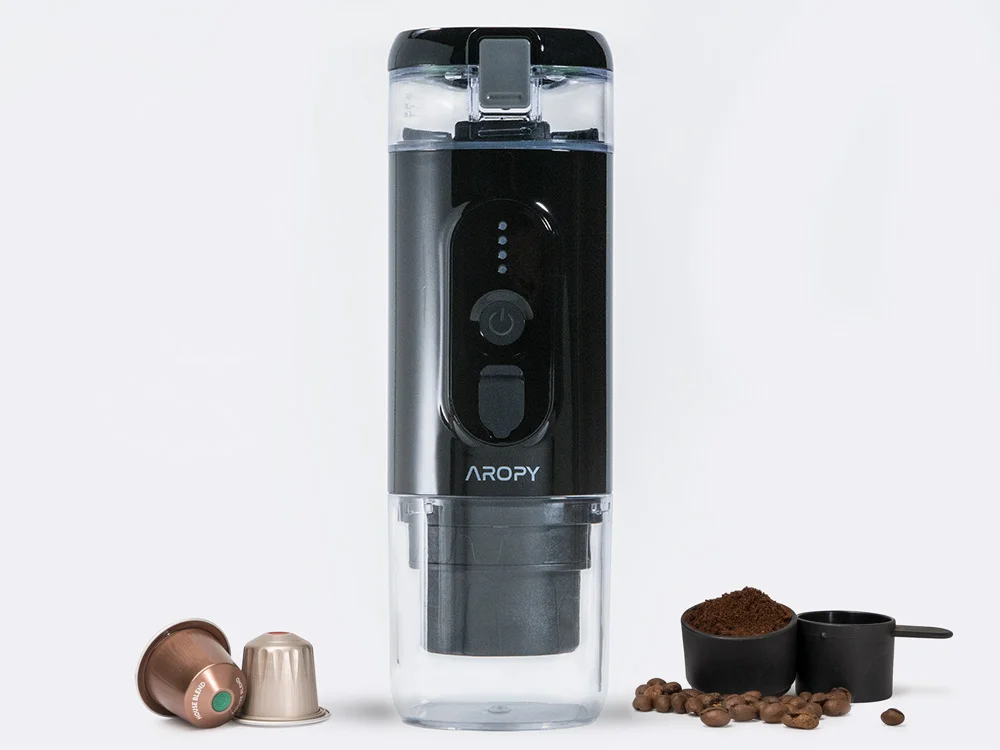 3. A portable Coffee Machine Makes Your Road Trips Joyful
It has an exclusive mechanism that can easily handle any kind of water. The design of this coffee maker is extremely adaptive for those who are always on the move. It contains a high-powered battery that can make up to 100 cups if using hot water or 4 cups if using cold water. A multiple functions button that allows you to make three different kinds of coffee drinks Ristretto, Espresso, and Lungo.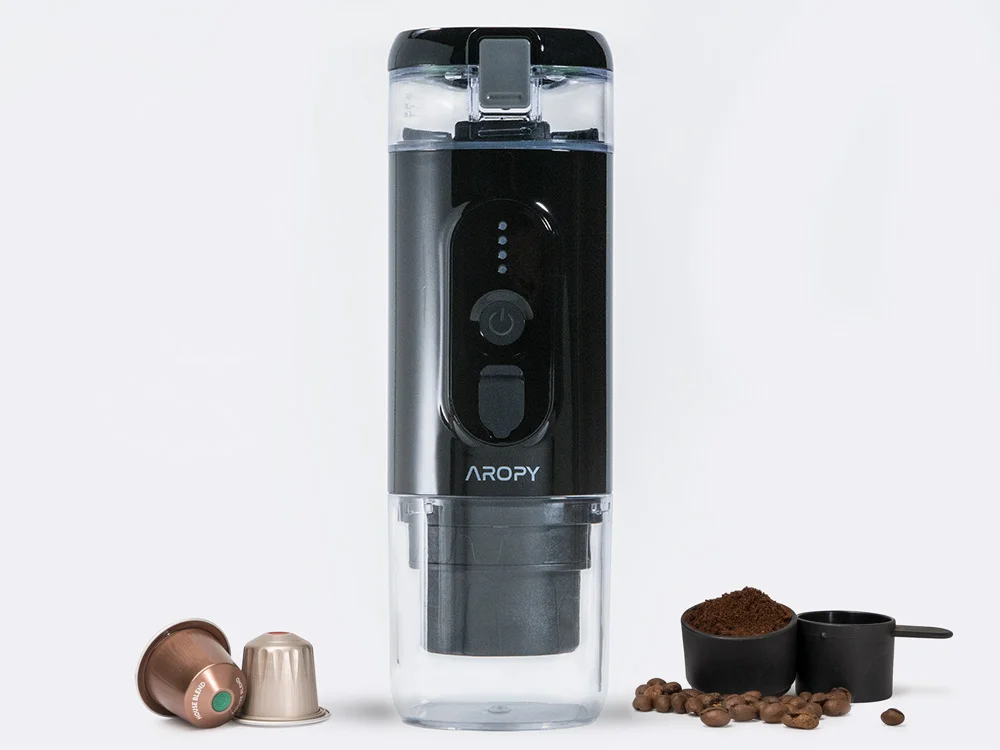 There are many features and advantages of having the Aropy coffee machine.
Slightly bigger than a regular bottle.
18 Bar Pressure to achieve crema.
2in1 Caspules and Ground coffee.
Fast water heat time up to 4 to 5 minutes
Reliable battery with USB Type-C port for quick charging.
Easy to clean and prevents your car from getting dirty
You would certainly enjoy a delectable taste and make your day interesting. Get this magic machine and start your day on a good note.